Local Links
Financial Services
Local Businesses
Welcome to the Bank of Evergreen
IMPORTANT! Active Phishing Scam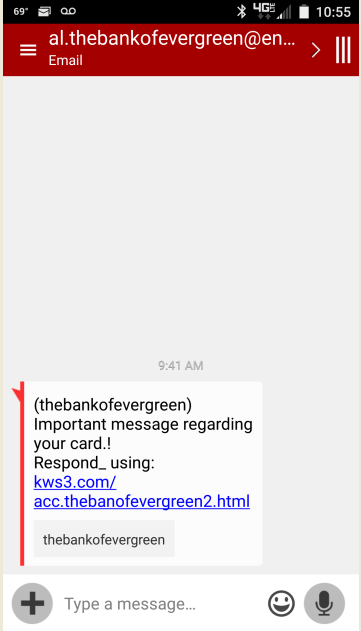 If you receive this in a text message or email, DO NOT OPEN. This is a Phishing Scam used collect your personal information.
PLEASE NOTE: The URL in the text is not from our official website URL https://www.thebankofevergreen.com.
More Fraudulent Check Scams Reported Today
First US Bank in Thomasville has been the victim of another type of check fraud where fake cashiers checks with their routing number and account number are being circulated in other states. In this case customers fill out an online survey in regard to participating in a mystery shopper program. The customer is then sent a letter with a check with the bank's routing number made payable to the victim. The letter instructs them to go to WalMart and send the money through the Money Gram service and evaluate the customer service. The customer is also instructed to get a cashier's check from their bank for a donation to a charity ($20.00), and mail the cashier's check to them and to also email a copy of the cashier's check to the scammers. The cashier's check copy is what they use to create the fake checks sent with the initial letter.
SunSouth Bank in Dothan had a customer report counterfeit checks drawn against their account this week. The checks all had the correct routing number, checking account number, name and address, signature, and tax ID number. The checks are an exact replica of the bank's checks but the word "established" is misspelled as well as the name on the signature. Five checks have been processed one in the amount of $1,737.67, three in the amount of 637.67 and one in the amount of 737.67. The checks have been made out to three different people - one in Texas and two in Georgia.
We are pleased to announce new Banking hours.
Monday, Tuesday, Thursday & Friday
8:30am - 2:00pm & 3:00pm - 5:00pm

Wednesday
8:30am - 12:00 noon
We hope this change will better serve your banking needs.